The AT1616L RS485/RS232 Digital I/O Board with On-Board WAGO Terminal Strips
---
GENERAL DESCRIPTION and TYPICAL APPLICATIONS:

RS485/RS232 Digital I/O Board with 16 Opto-Isolated "Wetted" or "Dry" Inputs, 16 Form-C Relay Outputs, with On-Board WAGO Terminal Strips (12VDC operation only.)
The AT1616L Remote I/O Board has 16 opto-isolated inputs and 16-Relay (Form C) outputs. The unit can be controlled by our simple/efficient command structure from a host computer (computer mode), such as a PC. The unit can communicate using RS485 or RS232, at data rates up to 115.2K bits/second. Up to 256 units (in computer mode & with repeaters) can be connected on a single pair of wires to form a large (4096 I/O points) RS485 multi-drop network. The AT1616L has an onboard switching regulator for 12VDC operation, LED indicators for all inputs and outputs, 18 jumpers for communications address, Baud rate, mode control, etc. Wago terminal connectors (spring loaded) are provided for ease of installation/removal. The RS485 serial port has built in transient protection and jumper selectable termination. LED indicators monitor the data flow of the serial port. "Less is more" when using our command structure to control the AT1616L. Only three ASCII commands are needed for full control: 1) The "LXX" command addresses the unit and returns the unit address and the input status of IL7 thru IL0; 2) The "K?DD" command can be used to control any one of the sixteen individual relay (K1 - K8, with or without an 8-bit timer), or the on/off status of all 8 relays, can be updated with a single execution of this one command. Other commands are available to check current I/O status, jumper settings (J8-J24), unit type, and software version. A terminal emulator and a few minutes are all that is necessary to learn our command structure. Quick basic software with source code is also provided to monitor/control the unit. The simplicity of the command structure allows for fast control in large multi-drop networks (less than 20mSec/unit at 9600,n,8,1 and only about 2mSec/unit at 115.2K,n,8,1). Delays are NOT required and bandwidth utilization is at a maximum. All commands and hex data are in capital letters. The range 0-9 and A-F are reserved for data. The letters G through Z are available for commands. Command strings are generally 1 to 4 characters in length. Return strings from the AT1616L are generally 4 characters long; however, larger strings (up to 18+ characters) are possible in our "Classic" command mode. The "Classic" command mode is supported to allow for backward compatibility in existing systems. Also in the future, two units can be operated in a standalone mode (master/slave mode) to form a "Relay extension cord," with 16-channles of control in each direction, at distances of up to 4000 ft. or more (order AT1616L-SAL for special software).
---
Click on the image for a larger view:
---
Please call us at: 513-874-4796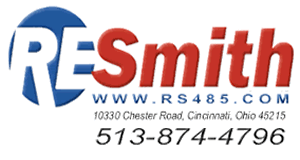 Contact Information:
R.E. Smith 10330 Chester Rd., Cincinnati, Ohio 45215
Phone: 513-874-4796
Fax: 513-874-1236